[Pixel Productions, ZX81]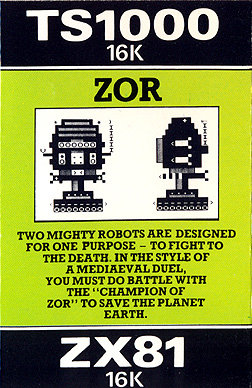 ************************************************
Below are the logs and camera feed of one of our Proton Class Battle Robots, which engaged and destroyed another Zorian Proton Class Battle Robot. The logs are left without comments.
*************************************************
*** ACTIVATION ***
#STATUS CHECK : ENERGY LEVEL 2500.
#CAUSE OF ACTIVATION : UNKNOWN AIRCRAFT DETECTED. ORIGIN : ZOR.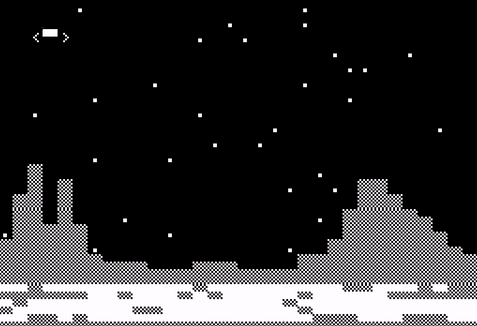 #ANALYSING
#ANALYSIS OVER:
HOSTILE!!! HOSTILE!!! HOSTILE!!!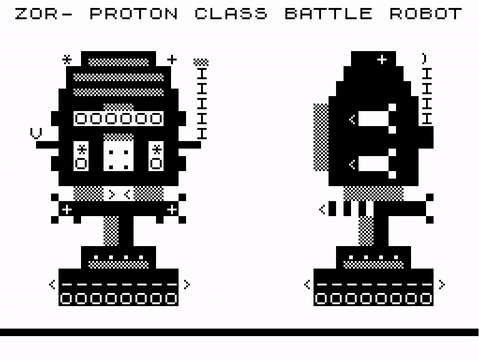 #ZOR IS NOW TARGETED
#ACTIVATING SENSOR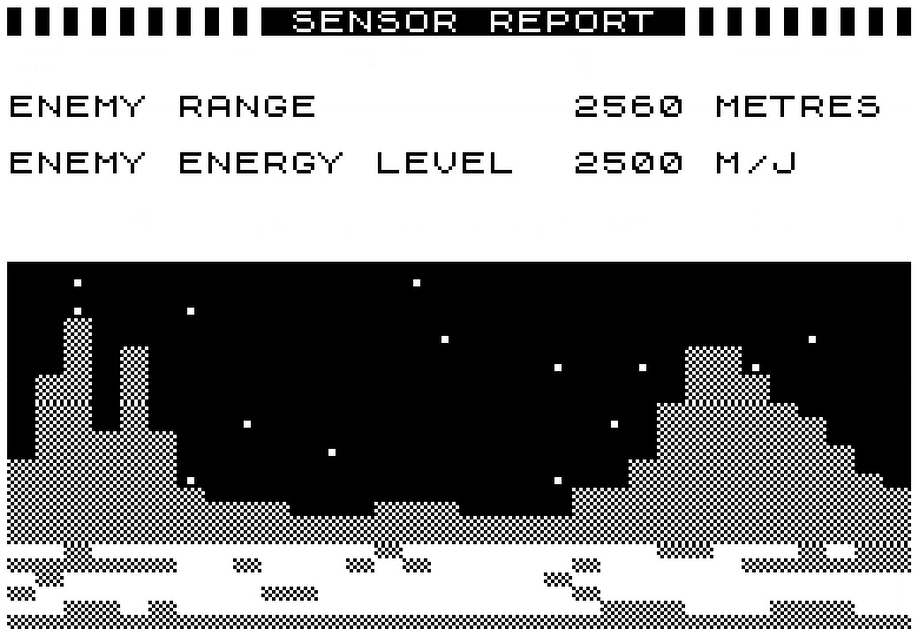 **** ALERT! MISSILE INBOUND ***
#ACTIVATING SHIELD – STRENGTH 9/9
#MISSILE DEFLECTED. NEW ENERGY LEVEL : 2321
#ENGAGING TARGET
#TARGET IS BEYOND VISUAL RANGE – ONLY TWO WEAPONS AVAILABLE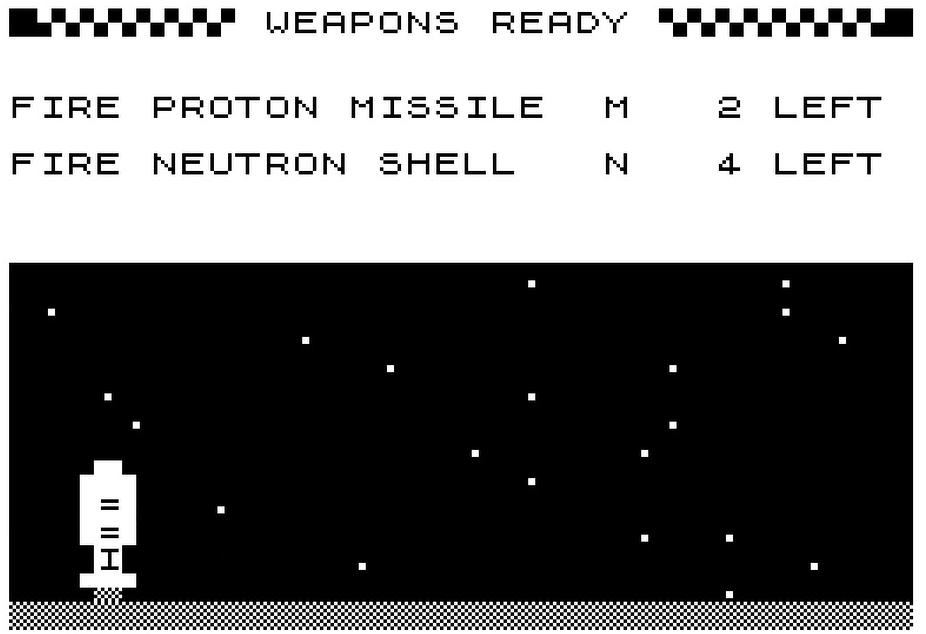 #SENDING PROTON MISSILES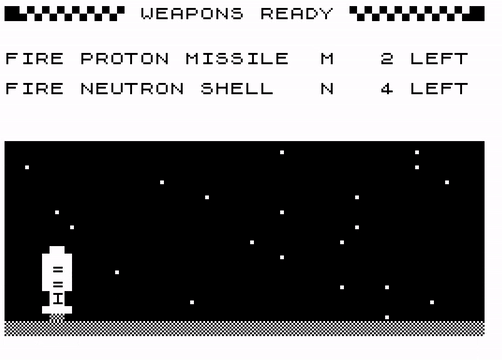 ************************************************
Here the logs seem damaged. From what we understand, our Battle Robot sent its 6 long-range missiles, and itself received 6 attacks it mostly deflected, before the two robots came into visual range
*************************************************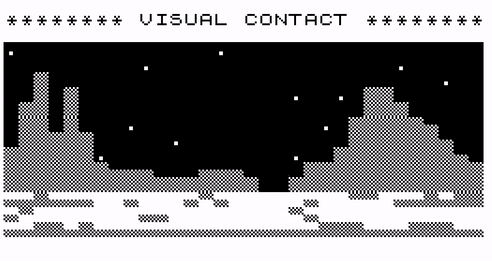 #STATUS – ENERGY LEVEL : 1697
#TARGET STATUS – ENERGY LEVEL : 1789
#TARGET WITHIN RANGE : THREE WEAPONS AVAILABLE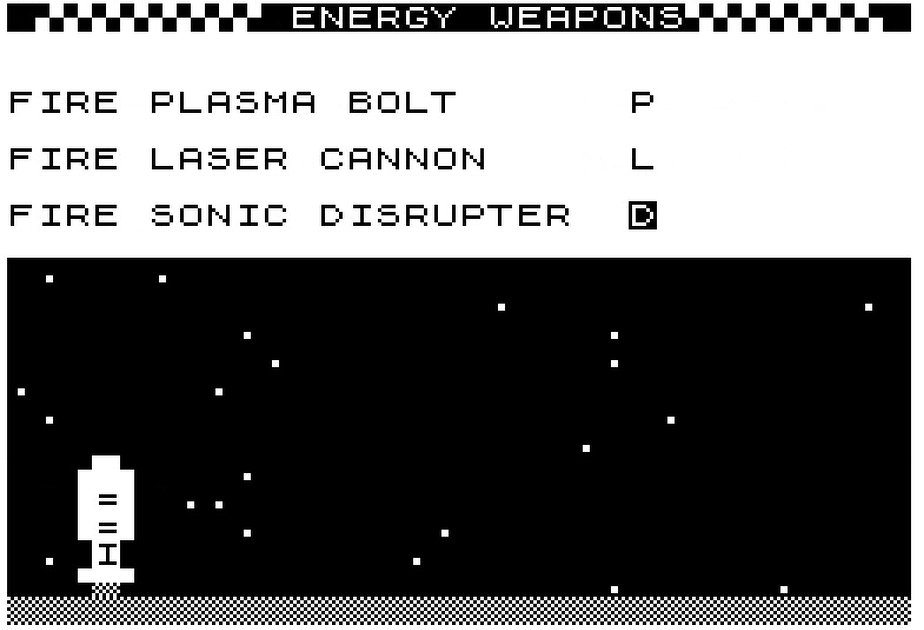 ************************************************
Here again the intensity of combat damaged a huge chunk of the logs. What seems obvious is that the two robots fire at each other at increasingly close range. At 100 meters, the Zorian Battle Robot stopped approaching, but kept firing. We managed to recover the camera feed for the end of the combat :
*************************************************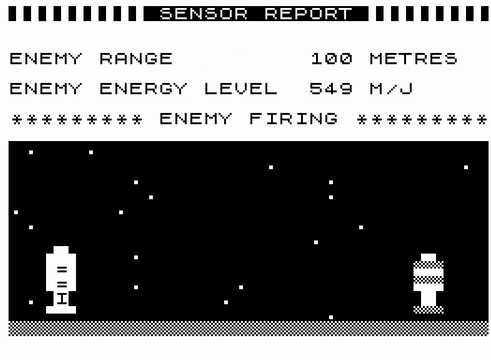 Zor is a small game by a company called Pixel Productions released on ZX81 and ZX Spectrum. I thought the game was lost – and the Spectrum version is indeed – but commenter LanHawk pointed me to a ZX81 version. This article was supposed to be about Julian Gollop's Islandia, but my draft got eaten by a WordPress update at the proofreading stage. In parallel I was testing Zor, which turned out to be the same as "playing Zor until the end of the game", so you got this article instead !
In terms of gameplay, there is not much here : the only real decision is shield-management, and even then I only started winning when I set its level to 9 every time I was attacked rather than trying to be smart.
Apart from that, you get to choose which missiles you use at long range, but since you have only 6 of them and you have enough time to shoot them all the decision is irrelevant. Finally, you choose your short-range weapons, but here again the best strategy – absent more detailed information on the three weapons – is to use plasma bolts because enemy attacks are much more costly in energy than a 50 M/J difference.

This lack of strategy earns the game a BRIEF status, but I have to concede that Zor manages to be fairly cinematic for a 16K game. Nonetheless, I don't see myself playing it more than two or three times, even in the 80s.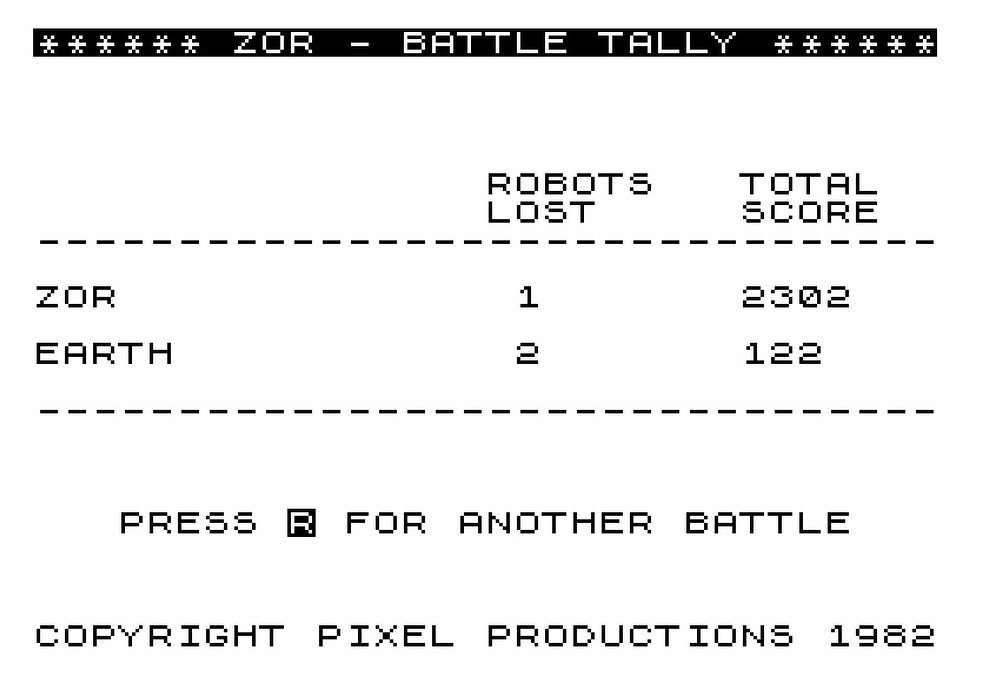 ---
My next article will be on Islandia for real with a multiplayer AAR and a rating & review. Speaking of multiplayer AAR, many one of you has wondered in an email how to join the multiplayer games. My recruiting pool comes from other archeogamer blogs but also the games played on the forum. Alas, there has not been any forum game for a while, and checking the upcoming list there is no game in the close future that would be appropriate. So I'm taking the liberty to jump ahead to 1988 and launch a forum game on the bizarre and forgotten French cRPG-strategy hybrid Zone (1988). Zone has been designed by the same team as the (pure cRPGs) TERA and Karma and is about managing a gang in a post apo-world. It includes everything that the designers could think of : arcade combat (outside), dungeon-crawling (inside), psychic powers, monsters, morale management, diplomacy, …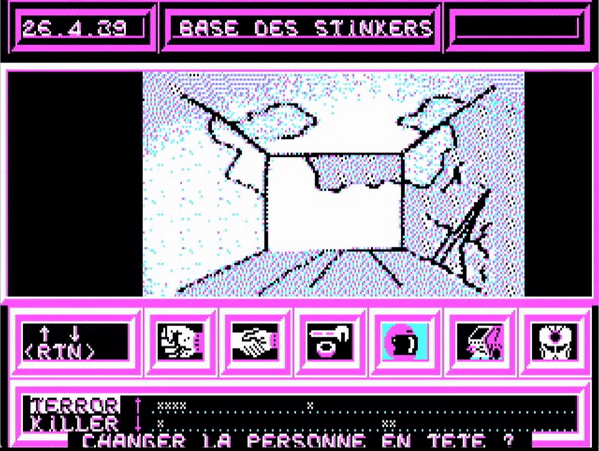 My plan is to manage the gang as an anarchist collective, with each "player" voting on the decisions – and ideally finish the game for the first time on Internet. Join up on the forum.